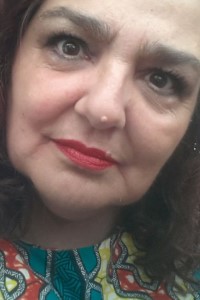 Rosário Severo (Cultural Mediator and Head of Educational Service) was born in 1960 from Portuguese migrants in France. She moved to Portugal in 1982, married a black mestizo man, returnee from Angola and began working at the National Museum of Costume in 1985.
As a worker-student, she graduated in Modern Languages and Literature, at the Faculty of Social and Human Sciences of the New University of Lisbon in 1994. Currently she is finishing a Masters in African History at the Faculty of Languages of the University of Lisbon. In 2016 she elected the National Museum of Ethnology to continue working on what she considers to be her life's mission: to fight against racism, xenophobia, and all kinds of social and cultural discrimination.
She is cultural mediator and Head of Educational Services at the National Museum of Ethnology (General Directorate of Cultural Heritage), Lisbon, Portugal.