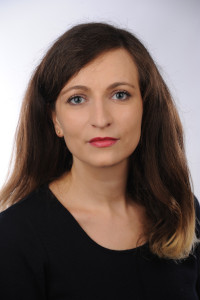 Dr Alexandra Oancă joined the University of Amsterdam and the ECHOES project as a Postdoctoral Researcher in September 2018.
For ECHOES, Alexandra is working within package 2 'Europeanizing Colonial Heritage', overseen by Prof Elizabeth Buettner from the University of Amsterdam, and by Dr Jan Ifversen and Dr Christoffer Kølvraa from the University of Aarhus.
Alexandra's research is focused on the way the colonial past is narrated (or not) in public EU policies and discourses, particularly in the EU's foreign engagements in what are clearly post-colonial contexts (such as the Euro-Mediterranean Partnership and the European Neighborhood Policy). Her research attempts to answer the following questions:
– how does the EU legitimize and justify its contemporary external goals and ambitions (and its practices in these regions)?;
– what pasts, keywords, and myths are drawn on in order to narrate these global ambitions? How are these connected (or not) to European colonialism?;
– what is the cultural component of EU's foreign policies and instruments? What is the role of cultural policy, cultural heritage, and colonial heritage in the articulation of the EU's foreign policies?
Biography
Before coming to Amsterdam, Alexandra was a Global Teaching Fellow at the Department of Human and Social Sciences at Universidade do Vale do Taquari in Lajeado, Rio Grande do Sul, Brazil.
Alexandra defended her PhD in January 2018 at the Department of Sociology and Social Anthropology at Central European University (still) based in Budapest, Hungary.
Her PhD project, titled "Bidding Wars: Enactments of Expertise and Emotional Labor in the Spanish Competition for the European Capital of Culture 2016 Title", focused on the discourses and practices that make possible the pursuit of culture-led development and the competition between cities on cultural grounds. In her doctoral work, Alexandra looked at the European Capital of Culture (ECoC) programme, more precisely at how 16 Spanish cities competed on cultural grounds – and not only – for this title. Just like other cultural policies designed by the EU, ECoC was considered necessary for the integration and identity-building of the members states of the European Community not just through economy and politics but also through culture. It was established in a period when 'culturalist' approaches became part of the toolbox of European integration, although it has been increasingly subjected to a logic of intense competition.
During her PhD, Alexandra was a Visiting Researcher at the Department of Anthropology at the University of Auckland, New Zealand (2015).
Besides her PhD, she holds an MA in Sociology and Social Anthropology with a specialization in Global and Urban Studies from Central European University (2010) and a BA in Sociology from the University of Bucharest (2008).
Research interests
Alexandra's research interests focus on:
– Critical Policy Studies and Policy (im)Mobilities
Broadly speaking, Alexandra is interested in understanding how policies are made, remade and contested, and how policies travel. More particularly, her research analyzes discourses of expertise, knowledge production in bureaucracies and policy networks, and the articulation of expert-knowledge systems in the EU and between Europe and/in the "world". Moreover, Alexandra is interested in understanding how colonialism and post-colonial (dis)connections have shaped and continue to shape how policies are imagined, implemented, and mobilized.
– The Politics of Heritage-Making: Urban Development and Identity-Building Processes
Alexandra is interested in processes of heritage formation and contestation that are taking place in between cities, states, international organizations, and policy networks, and the way heritage-making is intertwined with tourism, cultural policies, and culture-led urban development. On the hand, heritage and culture are increasingly commodified and instrumentalized for urban redevelopment, tourism promotion and identity building. On the other hand, anti-tourism mobilizations and heritage contestations have spread and continue to spread in Europe and beyond, potentially opening the space for alternatives ways of imagining heritage.
– Moving Matter: Affect and Emotions in Governance
Emotions are not irrational or solely private phenomena but social processes that can shed light on meaning-making and on the socio-structural conditions that produce them. Affect, emotions and emotional labor are a constitutive part of the art of governance, shaping the construction of policies, the legitimization of governance, and the formation of collective identities and subjectivities. Currently, Alexandra is looking into the troubled emotional landscape of the so-called 'postcolonial' present in EU policy-making, that is characterized by complex entanglements between colonial durabilities of silences, omissions, and disregard, contemporary neo/colonial instances, and potentially alternative, decolonial practices.
Publications
Oancă, Alexandra. (2015) Europe is not elsewhere: The mobilization of an immobile policy in the lobbying by Perm (Russia) for the European Capital of Culture title. European Urban and Regional Studies. 22 (2): 179-190. doi: 10.1177/0969776414535419
Teaching experience
In addition to research experience, Alexandra has taught both introductory classes in sociology and social anthropology and classes linked to her research interests:
– Introduction to Sociology and Social Anthropology (Univates, 2018);
– Contemporary Themes (Univates, 2018);
– Introduction to Sociology, Social Anthropology and Nationalism (CEU, Roma Graduate Preparation Program, 2015-2016);
– The Logic of Social Inquiry (CEU, Department of Sociology and Social Anthropology, 2015);
– Knowledge, Expertise and Entrepreneurial Urbanism (Corvinus, TEK, 2013);
– Key Issues in Social Theory (CEU, Department of Sociology and Social Anthropology, 2013).