Please find below a digital repository of ECHOES deliverables – papers, articles, peer-reviewed publications, books and other media produced by the Team. Click on the miniatures to view the files.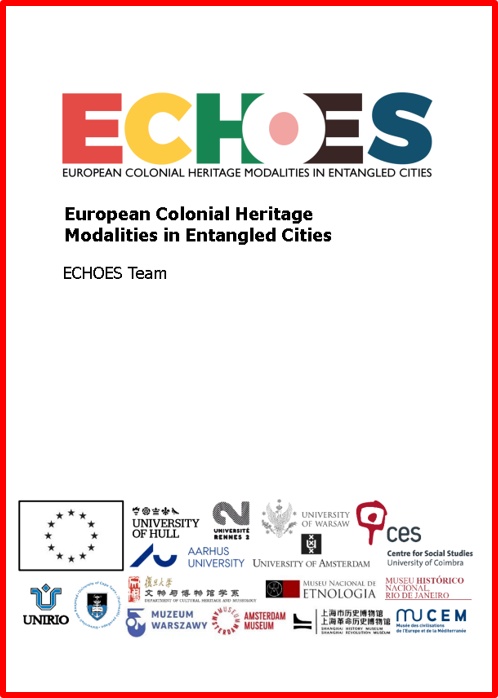 Colonial Heritage Modalities in Entangled Cities
ECHOES Team
Methodological Toolkit
Casper Andersen (Aarhus University)
Britta Timm Knudsen (Aarhus University)
Christoffer Kølvraa (Aarhus University)
With input from ECHOES colleagues as listed in the Table of Contents.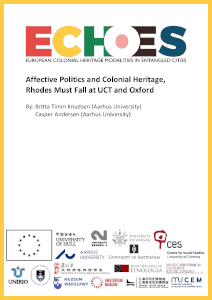 Affective Politics and Colonial Heritage, Rhodes Must Fall at UCT and Oxford
Britta Timm Knudsen (Aarhus University)
Casper Andersen (Aarhus University)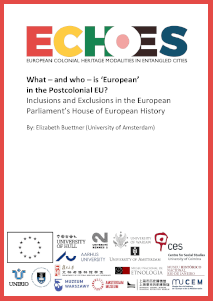 What – and who – is 'European' in the Postcolonial eu? Inclusions and Exclusions in the European Parliament's House of European History
Elizabeth Buettner (University of Amsterdam)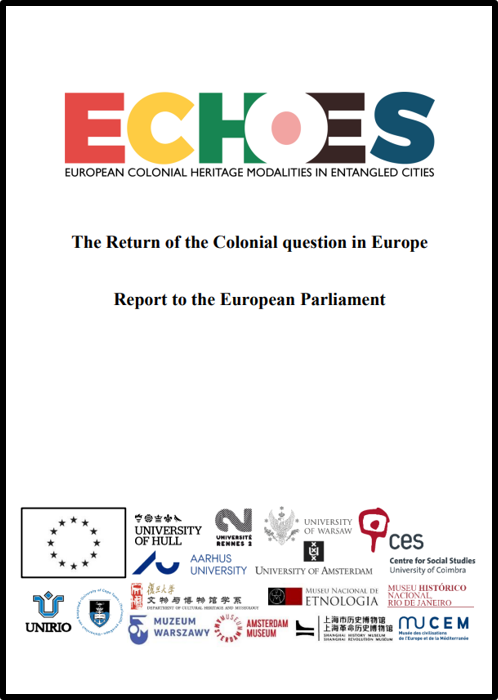 The Return of the Colonial question in Europe Report to the European Parliament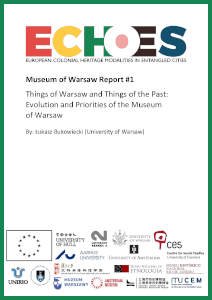 Things of Warsaw and Things of the Past: Evolution and Priorities of the Museum of Warsaw
Łukasz Bukowiecki (University of Warsaw)
A City, its History, and its Museum(s): Making the Shanghai History Museum / Shanghai Revolution Museum
Laura Pozzi (University of Warsaw)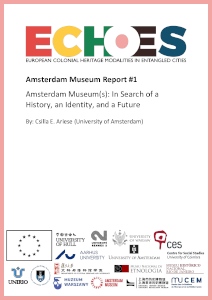 Amsterdam Museum(s): In Search of a History, an Identity, and a Future
Csilla E. Ariese (University of Amsterdam)
Dealing with Difficult Pasts at the Museum of Warsaw: Implications of Curatorial Memory Practices
Łukasz Bukowiecki (University of Warsaw)
Joanna Wawrzyniak (University of Warsaw)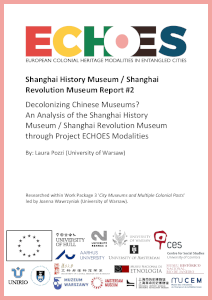 Decolonizing Chinese Museums? An Analysis of the Shanghai History Museum / Shanghai Revolution Museum through Project ECHOES Modalities
Laura Pozzi (University of Warsaw)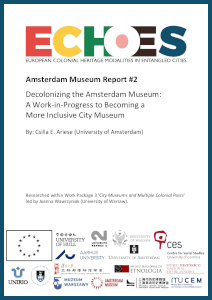 Decolonizing the Amsterdam Museum: A Work-in-Progress to Becoming a More Inclusive City Museum
Csilla E. Ariese (University of Amsterdam)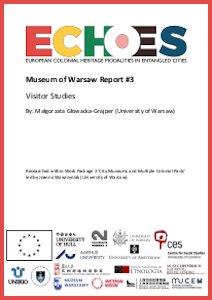 Museum of Warsaw Report #3: Visitor Studies
Małgorzata Głowacka-Grajper (University of Warsaw)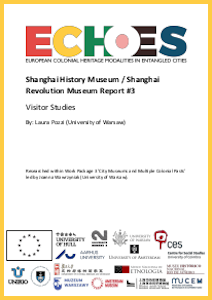 Shanghai History Museum / Shanghai Revolution Museum Report #3: Visitor Studies
Laura Pozzi (University of Warsaw)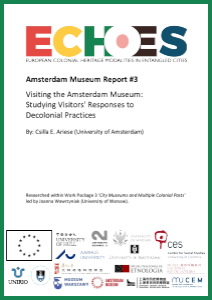 Visiting the Amsterdam Museum: Studying Visitors' Responses to Decolonial Practices
Csilla E. Ariese (University of Amsterdam)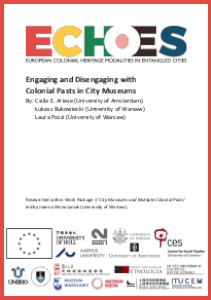 Engaging and Disengaging with Colonial Pasts in City Museums
Csilla E. Ariese (University of Amsterdam)
Łukasz Bukowiecki (University of Warsaw)
Laura Pozzi (University of Warsaw)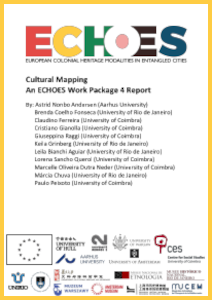 Cultural Mapping, An ECHOES Work Package 4 Report
Astrid Nonbo Andersen (Aarhus University)
Brenda Coelho Fonseca (University of Rio de Janeiro)
Claudino Ferreira (University of Coimbra)
Cristiano Gianolla (University of Coimbra)
Giuseppina Raggi (University of Coimbra)
Keila Grinberg (University of Rio de Janeiro)
Leila Bianchi Aguiar (University of Rio de Janeiro)
Lorena Sancho Querol (University of Coimbra)
Marcelle Oliveira Dutra Neder (University of Coimbra)
Márcia Chuva (University of Rio de Janeiro)
Paulo Peixoto (University of Coimbra)
Life Stories In Lisbon and Rio De Janeiro
Lorena Sancho Quero (University of Coimbra)
Márcia Chuva (University of Rio de Janeiro)
Giuseppina Raggi (University of Coimbra)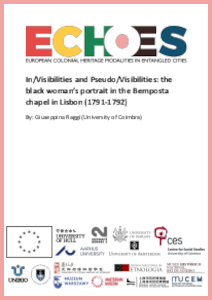 In/Visibilities and Pseudo/Visibilities: the black woman's portrait in the Bemposta chapel in Lisbon (1791-1792)
Giuseppina Raggi (University of Coimbra)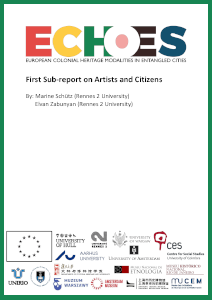 First Sub-report on Artists and Citizens
Marine Schütz (Rennes 2 University)
Elvan Zabunyan (Rennes 2 University)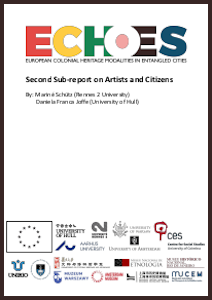 Second Sub-report on Artists and Citizens
Marine Schütz (Rennes 2 University)
Daniela Franca Joffe (University of Hull)
Third Sub-report on Artists and Citizens
Marine Schütz (Rennes 2 University)
Meghna Singh (University of Hull)
Artists and Citizens
Elvan Zabunyan (Rennes 2 University)
Daniela Franca Joffe (University of Hull)
Marine Schütz  (Rennes 2 University)
Meghna Singh (University of Hull)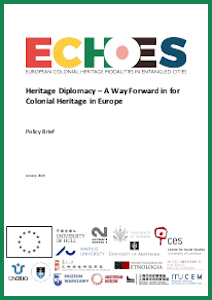 Heritage Diplomacy – A Way Forward in for Colonial Heritage in Europe
Policy Brief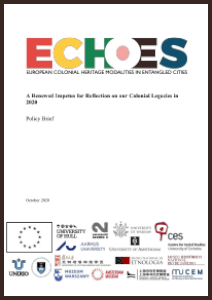 A Renewed Impetus for Reflection on our Colonial Legacies in 2020
Policy Brief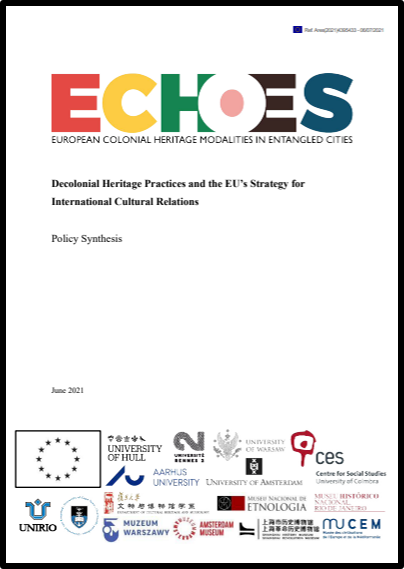 Decolonial Heritage Practices and the EU's Strategy for International Cultural Relations
Policy Synthesis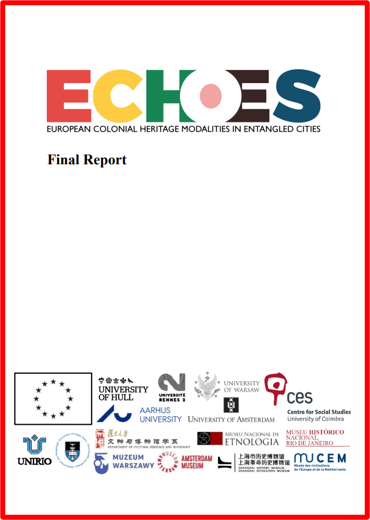 Final Report