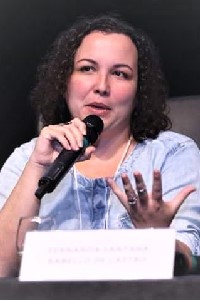 Fernanda Castro (Researcher in Museum Education and Museum Educator) holds a Bachelor's Degree in History from the Federal University of Rio de Janeiro (2005), Lato sensu Specialization in Teaching History and Culture of Africa and the Black in Brazil by UCAM (2007), an MSc in Education by the Federal University of Rio de Janeiro (2013), in the research line of Policies and Educational Institutions, and PhD in Education by the Programme of Post-Graduation in Education of the Fluminense Federal University and the Faculty of Fine Arts of the University of Porto, Portugal (2018), in the research line of Philosophy, aesthetics and society.
She was a history teacher at public schools before becoming a museum educator (2006-2010). She is an educator in the Museum of the Chácara do Céu – IBRAM/RJ (since 2010) and in the National Historical Museum (since 2018). She coordinated the WG of Networks and Partnerships and integrated the team of the National Program of Museum Education of the Brazilian Institute of Museums (2012-2018), that led the collective construction of the National Museum Education Policy. She coordinated the Specialization Course in Museum Education, a partnership between the Castro Maya Museums, the Museum of the Republic (IBRAM) and the Rio de Janeiro's Institute of Education/FAETEC (2014-2016).
She conducts researches on public policies of museums and museum education, working with public research, evaluation, training of educators, elaboration of programs, projects and educational actions of the Museums in which she works. She coordinates the activities of the research line "Museum Education: concepts, history and politics", linked to the group "Writings of history in museums: objects, narratives and temporalities" in the National Historical Museum. She is a member of the Steering Committee of the Rio de Janeiro's Museum Educators Network (2014-2019) and is associated to the Committee for Education and Cultural Action of International Council of Museums. Her thematic interests are researches in the area of public policies for education and culture, museums and gender and the production of museum information.